Are you thinking of renovating your tired bathroom? Read on for some advice on how to go about it and some of the 130 or so decisions you'll need to make.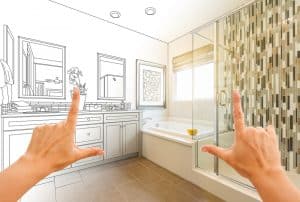 The planning phase consists of:

Determining what you want to change and what's going to stay the same.
Knowing what your style is-do you like mid-century modern, contemporary, rustic?
Coming up with a budget. A contractor may ask you early on what your budget is, and this is most likely to determine if what you have in the bank is realistic to what is on your wish list. If you say your budget is $100,000 and the proposal comes out to be $60,000, an honest contractor is not going to pad the estimate to eat up all of your money.
Establishing how the work is going to get done. Are you going to do it? Do you need to find a general contractor? Are you going to be the GC and you need to find subcontractors for plumbing, electrical, tiling?
Designer or no? Knowing when to call for help to get the design done and help make smart decisions about fixtures and finishes. This could save your relationship when you and your significant other can't make a decision together. A designer can help with just basic layout or tasked with elements all the way to ordering faucets and sinks to choosing tile and paint colors.

The order of operation once the contract has been signed – the big picture.

Demo including lead-based paint testing (if your home is older than 1978) and abatement, if needed. Also, asbestos testing and abatement for asbestos which can be found in linoleum glue, drywall, or insulation (there is no date for a guideline with asbestos).
Plumbing rough in (tub or shower pan gets set at this time)- moving drain lines and supply lines to accommodate the new lay-out.
Electrical rough in – moving/adding lighting and switches. A new fan.
Inspections -need to be performed according to permitting department's criteria and timeline (if the project is permitted).
Drywall – repair or install of new drywall, texturing and priming.
Painting – it is easiest to do the painting BEFORE anything is installed. Touch-up at the end.
Vanity/sink install.
Tile install for floor and walls.
Plumbing trim out – faucets and sink drain installed, supply valves replaced.
Electrical trim out – light fixtures installed and switch plate and outlet covers installed.
Finishing touches – towel bars, mirrors, and other final, fancy touches installed. This includes the shower door.
Final inspection (again if the project is permitted).
Keep an eye out for Part 2 where we will cover some of the many, many decisions associated with each of the steps above.
Listen to Episode 20 and 21 of "Let's Talk Home Repair" for a discussion about this very subject.