Amy Ecklund of AmyWorks serves as co-chair of the Technical Advisory Committee for the Wood Tech Center. We all celebrate a generous grant from the Lowes Foundation.
The Lowe's Foundation announced a $750,000 grant to Seattle Central College's Wood Technology Center.
The award — part of a new 5-year, $50 million Lowe's initiative to prepare 50,000 people for skilled trades careers — is one of eleven first-round grants to community colleges nationwide.
"Eighty-five percent of contractors tell us they have trouble finding the skilled trades workers they need," said Denise Hill, Lowe's Foundation board member and Lowe's Vice President of Corporate Communications & Community Relations. "With this award from the Lowe's Foundation Gable Grants program, we're proud to support Seattle's top source of trained carpenters while building a sustainable and inclusive workforce to revitalize our homes, neighborhoods and infrastructure for the future."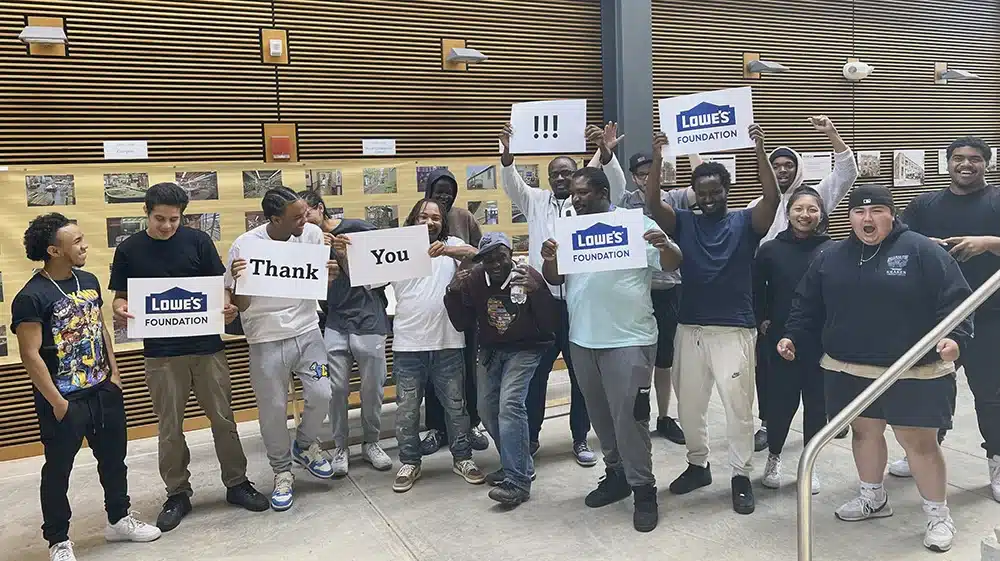 "We're deeply honored by the support," said Rob Watt, Associate Dean of the Wood Technology Center. "We've worked hard to build an array of programs that serves carpenters at every stage of the profession, from those just starting out, to seasoned pros returning to master the latest technology. Having our efforts recognized this way means a lot."
"This grant shows how we can better partner with industry and community to prepare more graduates in the construction trades and address a severe housing shortage in the process," commented Dr. Bradley Lane, interim president of Seattle Central.
"We need more homes for the homeless so they don't suffer and die on the street," emphasized Rep. Frank Chopp of Seattle's 43rd Legislative District, former speaker of Washington's House of Representatives. "But we also need more starter homes for individuals and families who are just starting out. As we grow the number of graduates at the Wood Technology Center, in part through this Lowe's grant, these are the challenges we can more fully take on."
Programs at the Wood Technology Center include the Pre-Apprenticeship Construction Training (PACT) certificate program, associate degree programs in carpentry and boat building/fine carpentry, and a new nine-month certificate program in residential construction. All programs have a strong focus on inclusivity, with growing percentages of students who are women and people of color.
"We provide a doorway into a construction job for anybody who has interest, because nobody should be left out of these opportunities," stated Catie Chaplan, Lead Instructor in the Center's associate degree program in carpentry.
"Interest in the trades is extremely strong at our schools," noted Dr. Rosie Rimando-Chareunsap, Chancellor of Seattle Colleges. "And that's extremely good for our community…because there is so much hands-on work to be done over the next several years — over the next generation — for our city's livability and sustainability.
"This generous investment by the Lowe's Foundation will help scale up the critical work of the Wood Technology Center, and ensure we have the housing and infrastructure to thrive as a region — and thrive equitably."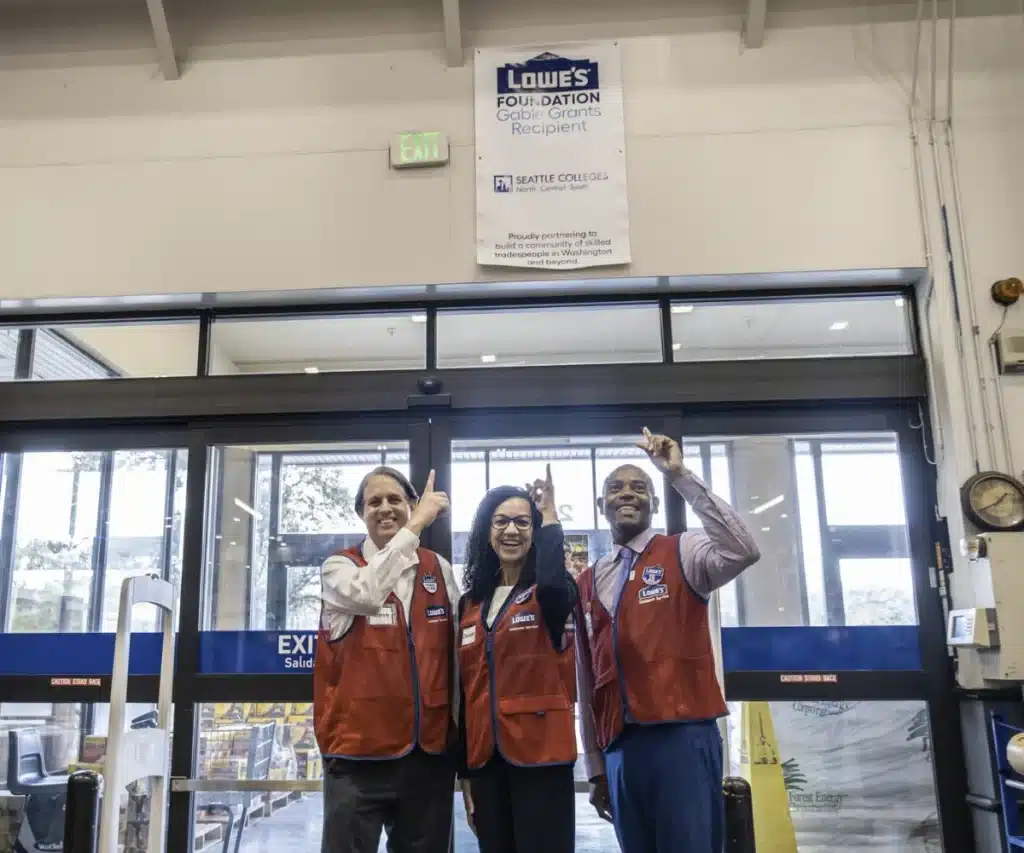 The $750,000 Lowe's Foundation Gable Grant will enable growth at the Wood Technology Center by adding a staff member to recruit and retain students and help grads with internships, apprenticeships and continuing education. Lowe's funds will also support a new site manager to better coordinate logistics, such as procuring and distributing materials and acquiring and caring for tools and equipment.
"We have our challenges as a city," said Deputy Mayor Greg Wong at the press conference. "But when I'm out in the community what I hear is not complaints, but questions from people about how they can help. And what I say is that it's about partnerships. We need government to step up, we need education systems to step up, we need our corporate partners to step up. Well, today you see that happening on all three fronts. Thank you, Lowe's, for being part of it."