First, let me say, I feel your shame and overwhelmed feelings.Your only wish is to have your 1950's bathroom brought into the modern century! How are you supposed to know what to do when there isn't even an instruction manual for all this stuff?! Where do you even begin?  I got you! Read on!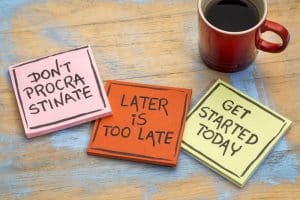 Do you walk into your bathroom and wish you had a magic wand? Are you embarrassed by the pink toilet and tub combination that was installed before you were even born? Does the black-spotted caulk make you cringe every time you try to take a relaxing bath?  Are you paralyzed by all the decisions you need to make to go from mid-century "modern" (that's an oxymoron) to 21st century clean and new? Not to overwhelm you more but there is something like 137 decisions that need to be made for a bathroom remodel. (I don't know if I've made 137 conscious decisions this year!). Let me help get you started down that path to conquering your bathroom remodel dilemma.
Step one:  Make a commitment that you're going to do it. I'm not saying you're going to be swinging a hammer or learning how to tile unless that's your jam but "putting a stake in the ground" and decide by such and such date you want this started. And define for yourself what started means.You've hired a contractor? You've put together a vision board on Pinterest? You've decided to sell the place instead? Be specific and make that commitment.
Step two: Think about your budget! What do you want to spend? How much can you afford? Do you have the funds available now or will you need to save for a while? Is financing an option?  
With those two steps completed you are now ready to talk to a professional. Maybe it's a designer that is going to help you put that vision board together or help your Pinterest board come to life. Many interior designers have packages that they offer to help get your ideas out of your head and on to paper. Even if you don't know what you want, they can help with that too. Designers can do basic drawings so you can actually see the end result and go so far as to help you pick out fixtures and tile all the way to sourcing and ordering the materials. Call your local home builders' association for vetted designers that are members. Google "interior designers" in your area and read their reviews. Pick three, call them and see what they have to offer and if you feel a connection. You want to feel good working with this person, and they need to understand your style and desires. Think first date. 
Maybe you're fortunate enough to already know that you want large format tile in the shower, gold fixtures, and heated floors you just need someone to DO IT! You can be your own general contractor (GC) but if making decisions and babysitting are not things you have the time or energy to do, a good GC is your best bet to get this done. Again, check out the local builders' association, ask friends for referrals for who they used AND liked. (Do you remember your friends telling you horror stories about their kitchen remodel nightmare? Don't use that GC.). Picking a GC can be tricky, and their pricing can be widely varied. The price difference is not about one company making more money than the other but more about does the company have a lot of overhead? Do they have a large staff? Is it just one guy and his truck? Do the employees receive benefits or are they working for cash under the table? Those behind-the-scenes things are important to understand when comparing bids from different companies.
Well, PH, I hope this has given you a little motivation to get started and has broken it down into a few bite-sized pieces. We'll pick this up again. Remember to breathe!
Your remodel coach and cheerleader!
Amy